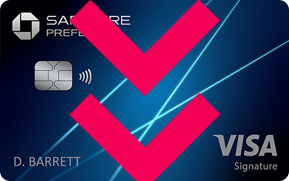 Advertiser disclosure: This post may include affiliate links (including sidebar banners) in which this site may receive compensation if a purchase is successfully made (at no extra cost to you) after being redirected from here. Thank you for your support!
My Reasons to Downgrade Chase Sapphire Preferred
The annual fee for my Chase Sapphire Preferred is about to hit, and I'm about to downgrade it. Downgrading cards is a natural progress that many of us will have to make once we reevaluate our needs year over year.
Downgrading Credit Cards Can Be A Great Move
Before telling you the reasons why I'm downgrading the Sapphire Preferred, I will say that downgrading credit cards can be a great move once you've racked up lots of signup bonuses in the past. After all, cards with annual fees tend to have the more lucrative bonuses. Once you meet the bonus, they're only worth keeping if the card's benefits outweigh the price you pay for the annual fee.
In my case, that's the Chase Sapphire Preferred. Be sure to transfer your Chase Ultimate Rewards to transfer partner(s) first before downgrading since you at least need a CSP to be able to transfer to airline/hotel programs. With the Chase Sapphire Preferred, you can downgrade to the Chase Freedom Flex or Freedom Unlimited.
It's possible to downgrade to the no annual fee Sapphire, but it takes up the slot of the One Sapphire rule where you can only hold one Sapphire card per account. This makes you ineligible to signup for another Sapphire card should you be eligible for the signup bonus again.
Citi & Capital One Are Competitive Against Chase
I mainly focus on international travel, and I find value in the transfer partners Citi ThankYou and Capital One Miles have to offer. It used to be that Capital One was not good enough to catch my attention due to the unfavorable transfer partner rates, which is now fixed.
I gravitate towards Turkish Miles & Smiles for my transfer partner on Turkish Airlines flights, which are exclusive to Citi and Capital One. I like Turkish Airlines because of their great connectivity that will take you pretty much anywhere with just 1 stop at most. They work with Star Alliance partner flights as well, with great redemption rates as long as I can find the Promotional Awards, which aren't hard mostly if I plan ahead months before the flight.
Plus, I have Amex Membership Rewards points for other programs like Air France KLM for US-Europe flights and Avios for Qatar Airways QSuites. Either my Chase UR points will just sit there doing nothing, or I can burn them before downgrading the CSP that allows me to stretch the other 3 points systems further down the road and earn more signup bonuses along the way.
Chase is Weak on Groceries
The glaring flaw of the Chase ecosystem is that it's weak on the grocery category, which Amex, Citi, and Capital One cover well at. Grocery category of 5x back only appears one quarter per year with the Chase Freedom Flex. Grocerie make up the biggest portion of my yearly spending, so I'm better off with the Citi Premier, Capital One SavorOne, or the Amex Gold Card with consistent 3x or 4x back respectively. Not to mention that those cards cover dining as well as the CSP. Thus, Chase cards in general get the situational purchases treatment for my situation.
I Don't Stay at Hyatt Hotels
A unique, but very valuable Chase transfer partner is World of Hyatt. But, I stay at Marriott hotels more often than I do at Hyatt hotels. I know that I'm an outlier for a guy who blogs about traveling with points & miles. But, I find Marriott works better for me since I stay 20-30 nights at hotels a year. It's also easy for me to reach Platinum Elite by stacking personal and business Marriott cards together (sometimes Titanium Elite with double elite nights promotion if timed correctly).
I find my experience being Platinum Elite so far to be mostly excellent. It could be due to the fact that I travel to countries where earning high status isn't as easy as it is in North America through credit card shortcuts. Thus, I had no problems getting upgraded to suites without using Suite Night Awards and treated like royalty on my hotel stays most of the time.
On the other side, it's impossible for me to reach Hyatt Globalist status because the status shortcuts from their credit cards aren't as generous as Marriott or Hilton. I also mentioned in the past that Hyatt's mid tier status (Explorist) is weak compared to Hilton Gold. Their small footprint also make it harder for the places I'm going to even if I could in theory reach the nights required to hit Globalist status.
By all means, if you stay at Hyatt frequently, then I wouldn't downgrade my CSP as Ultimate Rewards earning cards are one of the best sources to earning Hyatt points, and you'd need the CSP to have the ability to transfer UR to Hyatt.
Chase Has Lots of Great Co-Branded Credit Cards
Chase UR have some great transfer partners, and chances are they have some co-branded credit cards for them to further boost your points earning rate through signup bonuses. Keep in mind that Chase 5/24 Rule affects them. Here are some noteworthy examples:
Aeroplan Card
Avios cards (British Airways, Iberia, and Aer Lingues). Yes, you can sign up for all 3 of them and get their signup bonuses each.
United credit cards (4 personal, 2 business cards). You can get all 6 separate signup bonuses!
World of Hyatt credit cards (personal and business)
Most of them cost $95 annual fee like the CSP, so there's potential where you can build card setups with the absence of the CSP and yield similar results. For example, if you like to stay at Hyatts, then you can just spend with the World of Hyatt credit card to earn Hyatt points. Not to mention that the card pays for itself already with its annual Category 1-4 free night certificate.
Aeroplan Card is also a great card to spend on and somewhat covers Chase's weak grocery spend category. It's also quite a great program for Star Alliance flights that doesn't pass on fuel surcharges and very generous stopover policy.
For Avios and United cards, they're not great for spending, but you can earn lots of signup bonuses from them, which you can get while you wait for your signup bonus eligibility for the Chase Sapphire cards to cool down (once every 48 months after receiving the last signup bonus from CSP/CSR) before you can get it again.
Where to Transfer Chase Ultimate Rewards To
Before downgrading, it's a good idea to transfer them to an airline/hotel partner so your points will be more valuable that way. But, it's important to also have a realistic travel plan so you won't have points stuck in one program for too long, which risks yourself to devaluation out of nowhere. Here are some ideas:
Air France-KLM
Very good for US-Europe flights. You can find as little as 55,000 Miles required for a one-way Business Class from US to Europe with a modest surcharge of ~$200. The miles expire after 24 months of no qualifying activities like Air France-KLM flights, or co-branded credit card purchase with Air France-KLM credit card. Air France-KLM is also a partner of Amex, Citi, and Capital One. But, transferring points from flexible points won't extend miles expiration date.
Aeroplan
Possibly Chase's best bet for Star Alliance flights. It shares transfer partners with Amex and Capital One as well. Unlike Air France-KLM, transferring points will extend the 18-month expiration date of Aeroplan. Don't forget that Chase has a co-branded Aeroplan Card that could function as a pseudo grocery card for the Chase ecosystem.
Avios
Avios would be the go-to for Oneworld flights, especially for Qatar Airways QSuites because of the generous 70k Miles requirement for US-Doha flight. JAL isn't so bad either with he surcharge. Just avoid British Airways The fuel surcharge is mild, which is a decent alternative to the more difficult to earn American Airlines AAdvantage.
Avios is a transfer partner to all of the points currency! Avios expires after 36 months of no activity, but transferring points to them will extend the expiration date. It will be next to impossible to let them expire as long as you have credit cards open.
Hyatt
Hyatt is arguably the only hotel loyalty program worth transferring points to because of their favorable transfer ratio, with each Hyat point worth ~1.5 cents each. It's only a transfer partner of Chase however. But, if you're looking for luxurious hotel stays, then you can get lots of value out of your Chase UR points through Hyatt.
Marriott
This will be a very situational transfer. But, if you aim to have an award stay coming, and you're short on some points, then it may be worth transferring points to. Chase occasionally runs 50% bonus transfer promotions recently, so you could make some good plays if you're looking to redeem at properties with redemption value of 1 cent per point compared the average of 0.7 cpp for Marriott Bonvoy.
Conclusion
These are the reasons why I'm downgrading my Chase Sapphire Preferred. Do I think it's a bad card? Not necessarily, but I've been neglecting it while I'm occupied with signup bonuses and the Chase ecosystem not satisfying my needs for big rewards on big grocery spend. It's also a good time for me to wait for my signup eligibility for the CSP without having to keep paying $95 that I can't get much value out of. Once I'm eligible for the 80k signup bonus or better, I know when to strike!