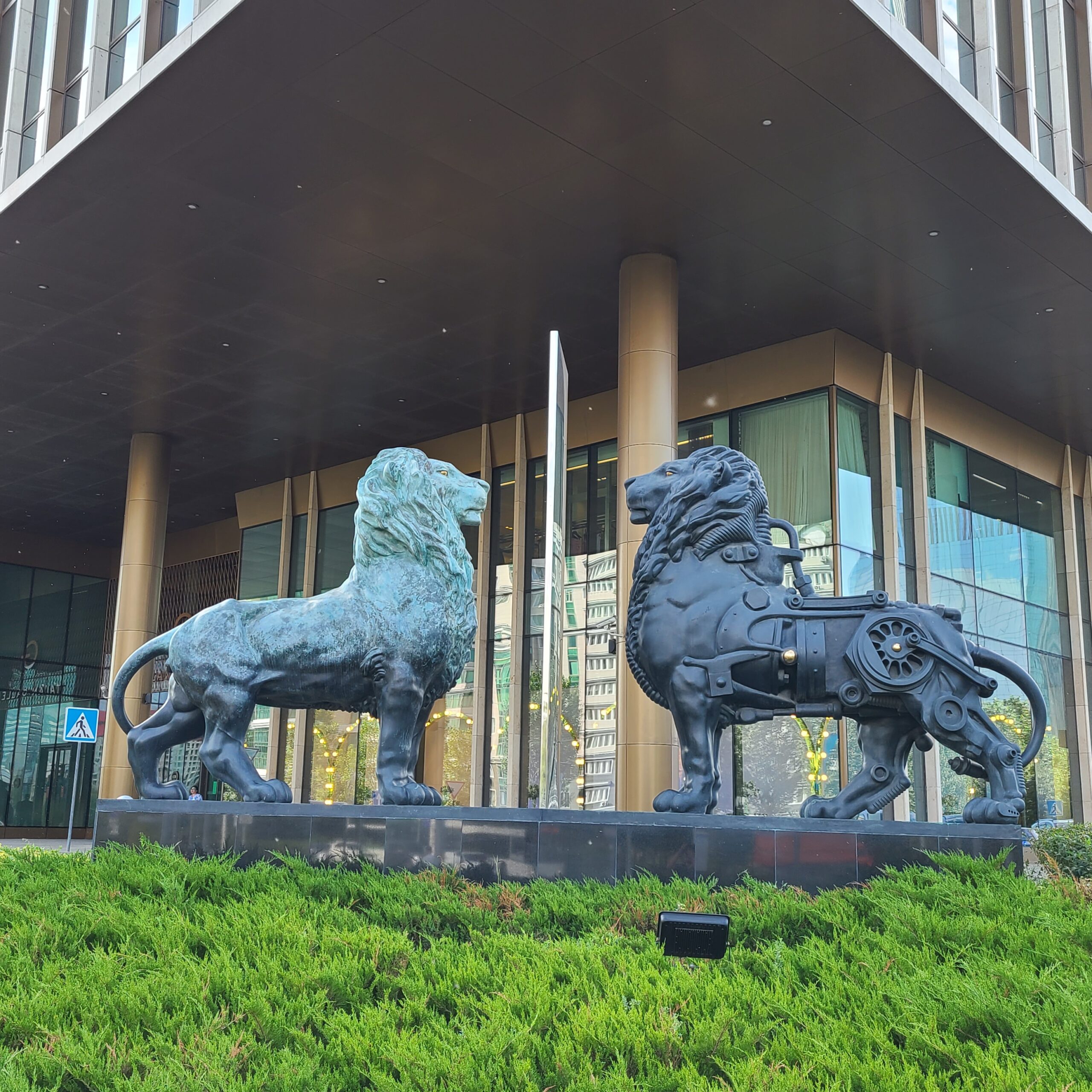 Advertiser disclosure: This post may include affiliate links (including sidebar banners) in which this site may receive compensation if a purchase is successfully made (at no extra cost to you) after being redirected from here. Thank you for your support!
Marriott Bonvoy Titanium Elite vs. World of Hyatt Globalist
Marriott Bonvoy Titanium and World of Hyatt Globalist are the top-tier status in their respective programs that don't require you to spend 5 figures of hotel stays each year to get. Having a high status can sweeten your hotel stays that belong within the Marriott or Hyatt umbrella. Which of them offers better benefits for their hotel chains? Let's do a comparison!
How to Get Marriott Bonvoy Titanium Elite & World of Hyatt Globalist
Marriott Bonvoy Titanium requires you to stay 75 nights at Marriott properties in a calendar year, while World of Hyatt Globalist requires you to stay 60 nights in Hyatt properties. On the surface, reaching Hyatt's Globalist is easier than Marriott's Titanium, but reaching Titanium is actually easier, and here are the reasons why:
Marriott credit cards offer 15 elite night credits while Hyatt only offers 5 elite night credits
Marriott's elite night credits can be stacked if you have a US personal and US business Marriott credit card (totaling in starting you at least 30 nights; 40 if you have the Marriott Bonvoy Brilliant; every year as long as the cards are opened)
World of Hyatt Visa offers a spend incentive for 2 elite night credits for every $5k spend, compared to the Marriott Bonvoy Boundless' 1 night every $5k. Overall, Marriott still has the easier way to reach high status through credit cards
Hyatt's footprint may be problematic depending on where you go. More often than not, you can come across a situation where there's no Hyatt, but there are plenty of Marriotts
Overall, Marriott's Titanium Elite is easier to get compared to Hyatt's Globalist status if you're willing to sign up for hotel credit cards.

Marriott Bonvoy Titanium Elite vs. World of Hyatt Globalist Benefits
When it comes to hotel status benefits, the most valuable benefits include higher points earning rate, free breakfast, potential suite upgrades, and late checkout.  Marriott Bonvoy Titanium and World of Hyatt Globalist can get you them!
Points Earning
High status comes with better points earning rate on your hotel stays and most of their incidental purchases like dining and spa. Marriott Titanium gives you 75% extra Marriott points on your paid stays, while Hyatt Globalist gives you 30% extra. Marriott stays earn you a base 10 points for non-Long Term Stay properties while Hyatt earns you a base of 5 points across the board. We'll use Marriott's base of 10 since the exceptions are very few. Hyatt Globalist also does not provide bonus points as a welcome gift, so we'll remove it as an equation for Marriott.
Keep in mind that Marriott and Hyatt points are valued differently. Assume the average of 0.7 cents per point for Marriott and 1.5 cents per point for Hyatt, and let's run through some numbers.
Spend amount
Marriott Bonvoy Titanium (rewards received) 0.7 cpp
World of Hyatt Globalist (rewards received) 1.5 cpp
$200
3500 Marriott Bonvoy Points
~$24.5
1300 World of Hyatt Points
~$19.5
$1000
17500 Marriott Bonvoy Points
~$122.5
6500 World of Hyatt Points
~$97.5
For paid stays, Marriott Bonvoy Titanium will earn you more value back towards your next future stays than Hyatt Globalist.
Free Breakfast
Both Marriott Titanium and Hyatt Globalist get you free breakfast for up to 2 guests including yourself, but they're applied differently.
For Marriott, you can get free breakfast on most brands, but comes with exceptions. Notably, the brands that don't offer free breakfast are Ritz-Carlton, EDITION, and Design Hotels. Few properties under those brands may serve free breakfast, but they're the exceptions and not the rule.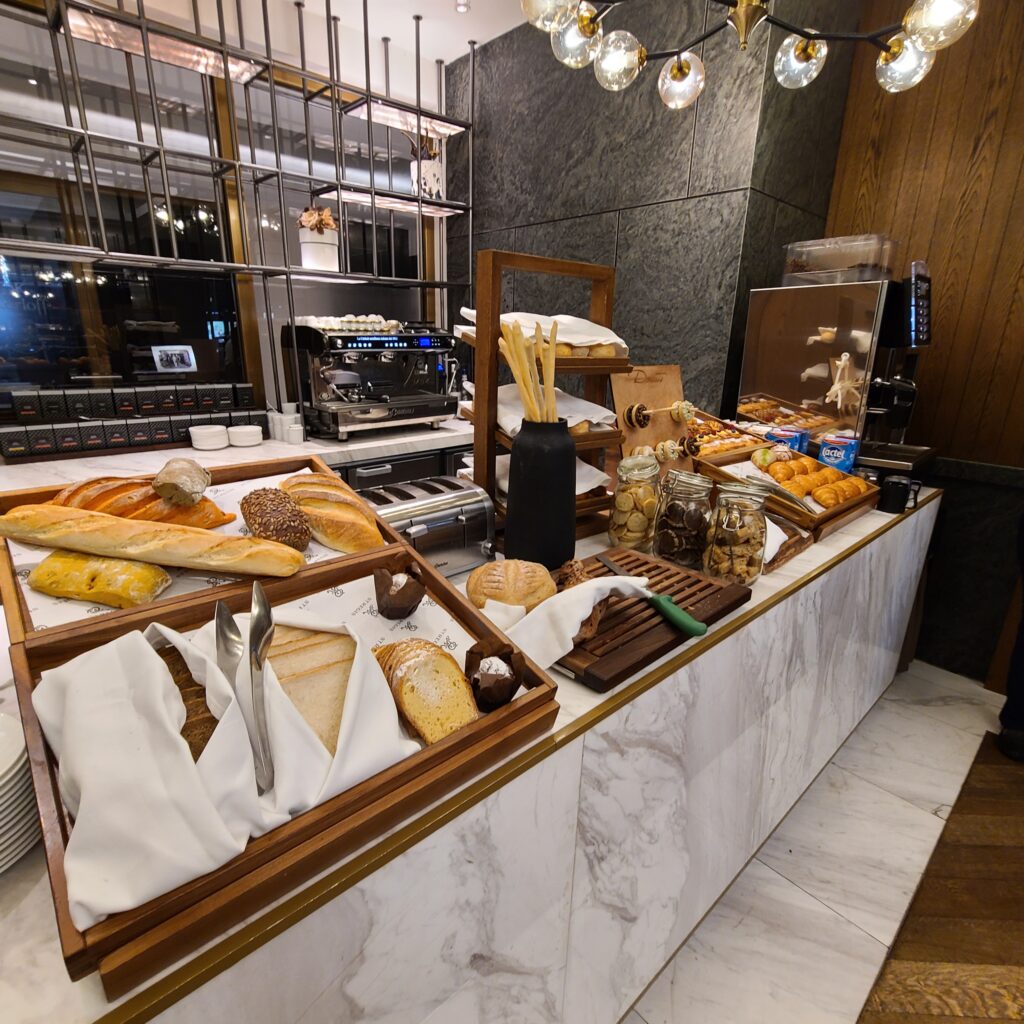 For Hyatt, the breakfast policy is much simpler. No brands are excluded under the Hyatt portfolio, and you'll receive free breakfast from the hotel's restaurant, or club lounge if the hotel has it.
Hyatt Globalist wins the free breakfast category due to no exclusion from brands compared to Marriott Titanium.
Room Upgrades
Both status gives you the privilege of being upgraded up to suite-level type of room subject to availability. Both programs offer suite upgrade instruments that can further improve your chances of getting those sweet suites through their own milestone rewards.
For Marriott, you can earn up to 10 Suite Night Awards for reaching/renewing Titanium Elite. Each Suite Night Award can be applied for a single night. Titanium Elite is also when you'd be eligible for a suite upgrade at Ritz-Carlton properties.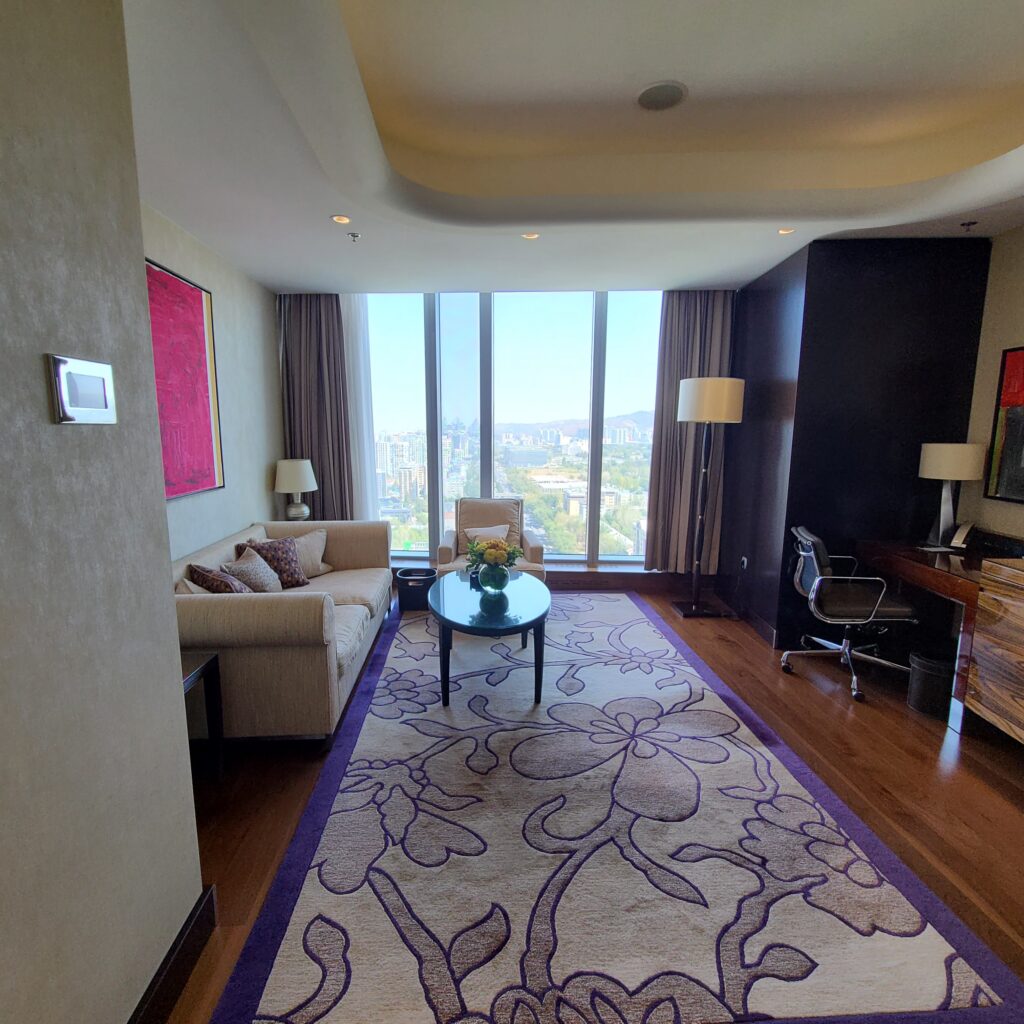 With Hyatt, you'd receive 4 Suite Upgrade Award while on your way to reaching/renewing Globalist. Each Suite Upgrade Award can be used for up to 7 consecutive nights.
Comparing the two, Hyatt's suite upgrade instrument is more powerful than Marriott as they can potentially be used for almost 5 times the amount of nights! Plus, Hyatt doesn't exclude brands unlike Marriott where you won't be able to use it for Ritz-Carlton, EDITION, or Design Hotels.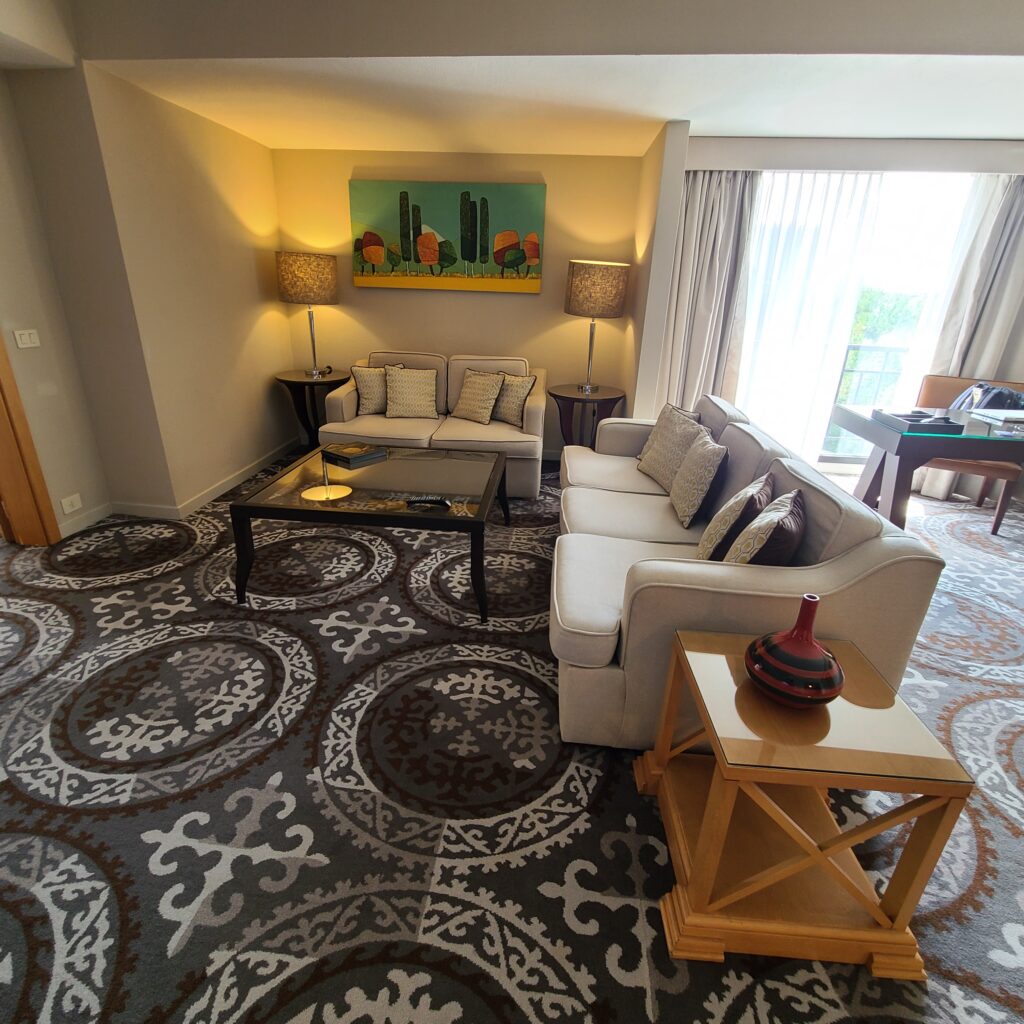 Hyatt's suite upgrades are also guaranteed compared to Marriott's suite night awards where they may be rejected, making them not as useful as advertised. Hyatt's suite upgrades can be applied right after you book a room (and as long as suites are available), while Marriott only allows you to apply them 5 days before check-in. The catch with Hyatt's suite upgrade awards is that you'd want to use them on special stays to get the most value out of them as you only have 4 charges once you attain Globalist.
Lastly, I recommend kindly asking the hotel for upgrades anyway as a supplement way to get the room upgrade you want in case you don't have these suite upgrade instruments. Both status from either program can score you nice upgrades a lot of times just by asking politely.
Hyatt Globalist provides more reliable ways to get suite upgrades compared to Marriott Bonvoy Titanium.
Lounge Access
Both elite statuses will get you free access to the hotel's lounge provided they have them open, and without the requirement of booking a room with lounge access. Marriott has more brands than Hyatt when it comes to lounge access, although not every hotels belonging to said brand will have them. For Marriott, Ritz-Carlton Club access is not a benefit for elite members when staying at Ritz-Carlton, and they must be purchased separately, or book a Club Level room.
| Marriott Bonvoy | World of Hyatt |
| --- | --- |
| Marriott, JW Marriott, Delta Hotels, Autograph Collection, Renaissance (resorts excluded) | Hyatt Regency |
| Courtyard (outside US/CAN) | Grand Hyatt |
| Sheraton, Le Meridien, Westin (resorts included) | |
While Marriott has more brands with a lounge, the quality of the lounge is property specific.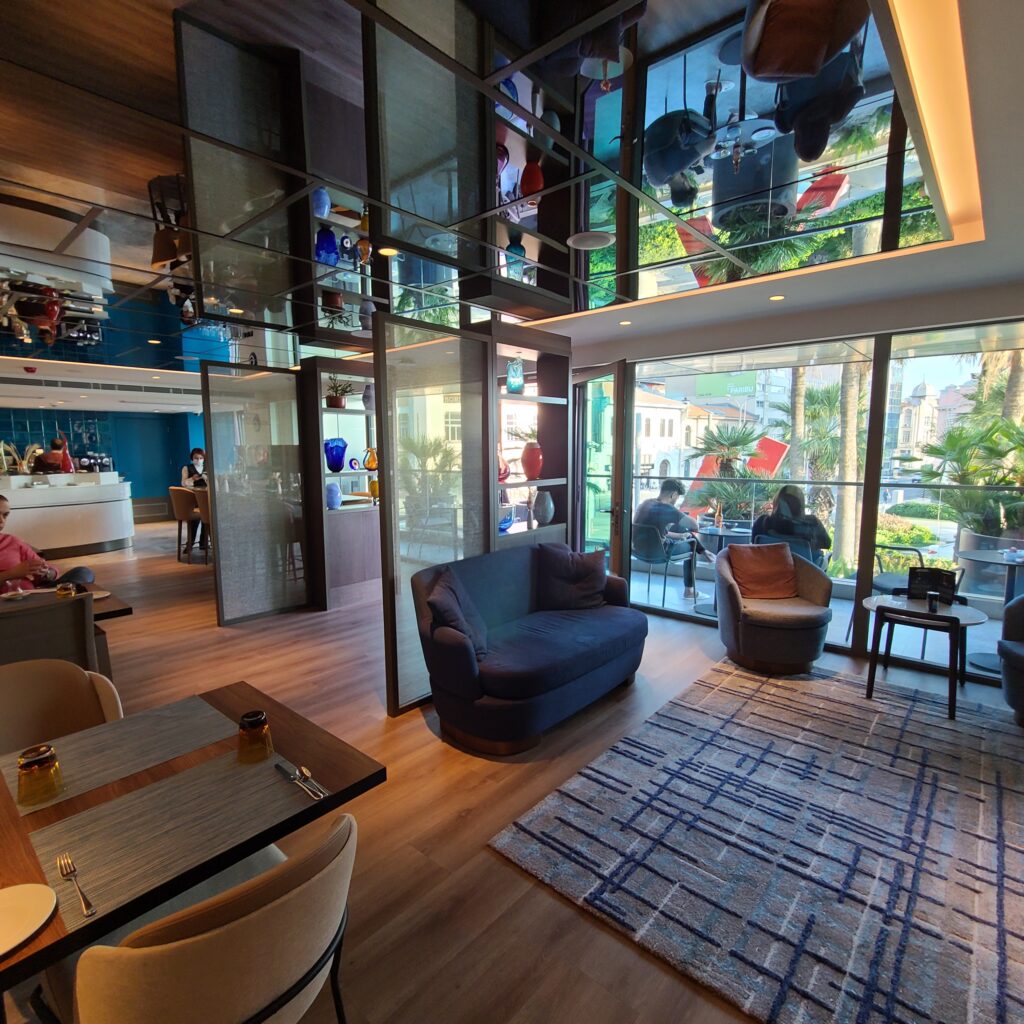 Late Checkout
Both elite statuses give guaranteed 4pm late checkout at most properties. Late checkout becomes subject to availability on resort properties, hotels with casinos, or convention for Marriott, and destination residences for Hyatt. Overall, they're pretty much equal in terms of 4pm late checkout, and it is one of the most valuable elite benefits you can get from hotel status.
Resort Fee Waiver
Hyatt Globalist is the only status of the two that waives resort/destination fees in both award and cash booking. Marriott will still charge you resort fees even on points booking!
Resort fees are annoying as they're compulsory charges on amenities that tend to have overlaps with elite benefits like free Wi-Fi, or tacked on benefits that you may not value like food & beverage credit if you plan to dine outside of the hotel. They're also not refundable. In Marriott's case, you may be able to negotiate for an extra perk or discount if the destination/resort fee benefit includes free Wi-Fi to soften the blow.
Resort/destination fees only plagues many hotels and resorts within North America, however. If your travel takes you outside of that continent, then resort fees are nothing to worry about, or at least much less of an issue.
Hyatt Globalist will have an edge on travels within North America thanks to the waived resort/destination fees.
Airline Partnership
Both programs have a special partnership with certain airlines; Marriott with United Airlines. & Hyatt with American Airlines.
Being a Marriott Titanium will grant you United Silver status without ever flying United. Key benefits of United Silver when flying United Airlines are:
Free preferred seating choice
1 free checked bag
Seat upgrade to Economy Plus for you + 1 companion (subject to availability)
Once you're a United Silver, you can even transfer United miles to Marriott Bonvoy points. Transferring airline miles to hotel points is usually not a good move, but can make sense for certain situations in order to top off some points requirements for a stay.
Hyatt Globalist on the other hand, does not provide automatic status match for American Airlines outside of promotions. Most of the value of the partnership outside of promotions is from the ability to earn 1 AA mile per $1 spent on Hyatt hotels, and 1 Hyatt point per $1 spent on AA flights. Marriott and United partnership does not have this reciprocal earning bonus.
When it comes to miles, I prefer AA as they have better partner award chart for long-haul international Business/First Class. United does have use for short-haul economy class that can provide good value rather than paying with cash. Ultimately, it comes down to which airline you prefer and you won't miss much if you're not loyal to either airlines.
Conclusion
Overall, Hyatt Globalist is the better top-tier status than Marriott Titanium Elite. Hyatt Globalist benefits are more streamlined and have less brand exclusions in terms of free breakfast and suite upgrades. Hyatt Globalist is more suited for travels within North America since it negates resort fees that are anti-consumer and plague the region. Marriott does not provide any way to avoid these fees.
But, there's a case for Marriott Titanium instead. If you travel outside of North America and have troubles getting Hyatt Globalist, you can have great value from this status, especially when you leverage US-issued Marriott credit cards. Through these credit cards, earning Titanium is easier than earning Globalist, not to mention the larger ex-NA footprint Marriott has over Hyatt.
During my recent travel to Central Asia, the "worst" upgrade I've gotten in Marriott properties there was a Junior Suite in Sheraton Bishkek, and that is still pretty good! Marriott Titanium also earns you more rewards back compared to Hyatt Globalist on paid stays that will progress you further into your next free stay.